Raising a Marketplace Profile Among Buyers and Suppliers
OVERVIEW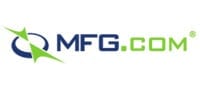 Founded in 2000, MFG.com is the world's largest online manufacturing marketplace. The platform connects companies seeking custom manufacturing services with qualified contract manufacturers around the world, based on the requirements of the job being sourced. Through an easy-to-use, secure portal, buyers of custom manufactured parts – engineers, industrial designers and other procurement pros – can upload requests for quotes (RFQs) online. Buyers then receive bids from interested suppliers located around the corner or across the globe.
MFG.com is focused on assuring the success of buyers and suppliers alike. It offers ShopIQ™, its competitive analysis tool that helps suppliers and manufacturers benchmark their MFG.com bid activity against other shops, as well as user-developed buyer and supplier ratings to assist in business decisioning. With members in 172 countries, MFG.com is the largest marketplace of its kind in the world.
CHALLENGE
When Marietta, Georgia–based MFG.com approached DPR Group in mid-2016, the firm sought to increase its name and brand recognition among buyers and manufacturing professionals worldwide, but especially within the United States. MFG.com also wanted to build relationships with editors and reporters who cover contract and manufacturing issues.
MFG.com reasoned that presenting its company executives as thought leaders in the field, sharing customer success stories and issuing press releases on items of note would realize the company's aim of enhancing MFG.com's reputation as the leading online platform for contract manufacturing services.
To that end, MFG.com sought a public relations and marketing champion with the background, expertise and strategic mindset to increase media coverage, and therefore name and brand recognition, by preparing and placing bylined and feature articles in the most influential business and trade publications.
Key Goals
Increase name and brand recognition among buyers and manufacturing professionals across the United States.
Publicly promote MFG.com as a modern, comprehensive resource for buyers and manufacturing professionals throughout the United States and beyond.
Expand relationships and build additional credibility with editors and reporters who cover manufacturing and sourcing issues.
EXECUTION
DPR Group implemented a strategic plan specifically designed to increase MFG.com's name and brand recognition among buyers and manufacturers globally. From the start, DPR Group realized significant, measurable public relations and marketing results.
Beyond a steady stream of press releases, DPR Group placed a series of "ghostwritten" bylined articles by MFG.com executives in publications such as Industry Today, Manufacturing Tech Insights, Material Handling Network and Robotics Tomorrow.
DPR Group—created case studies have spawned feature articles in American Machinist, ASSEMBLY, MetalForming Magazine, Cutting Tool Engineering and Manufacturing Engineering, among others. In addition, MFG.com executives have leveraged exposure over the airways, through appearances on High Velocity Radio and The Product Startup, as further evidence of their thought leadership.
The quality of the output created by DPR Group's experienced media professionals prompted MFG.com to increase the firm's relationship to include on-demand content development. DPR Group now prepares a full complement of marketing collateral, including product sheets, e-newsletters, blogs, e-books and tip sheets. DPR Group also updates the firm's website with fresh content, posting case studies, blogs and media coverage, and augments MFG.com's in-house marketing efforts as needed.
DPR Group Achievements
Wrote and placed a series of bylined articles by MFG.com executives in key industry publications to position them as thought leaders in the field of contract manufacturing services.
Enhanced the company's brand by creating customer case studies for use in feature article development.
Elevated brand awareness through announcement of key executive hires, new product launches and initiatives to promote openness and trust in the platform.
Crafted a steady stream of tip sheets, e-books, e-newsletters, press releases, blogs and more to maintain the MFG.com brand presence in the public consciousness.
Augmented the company's internal marketing efforts by serving as MFG.com's content development specialists and updating online information, as needed.
Attained more than 100 media "placements" in the business and trade press.
PERFORMANCE REVIEW
"DPR Group's thorough understanding of our business, combined with unparalleled industry experience and energy, continues to deliver impressive results. In addition, partnering with DPR provides a level of transparency that is just like having an extension of our own internal team."

– Mike Stein, Director of Marketing, MFG.com